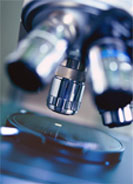 Since commencing operations over 20 years ago, Colorado Histo-Prep (CH-P) has become one of the nation's most prestigious histopathology companies. Currently CH-P is a private, employee-owned company that is recognized nationally and internationally for its tradition of excellent quality and Total Customer Satisfaction.
Distinctively unhampered by the influences of Wall Street and free of large corporate bureaucracy, CH-P prides itself in its ability to provide timely and responsive personalized service to its clients to meet their needs in anatomic and clinical pathology.
Our resources include highly trained and experienced pathologists, motivated technical personnel and dedicated quality assurance staff. We are committed to delivering the highest level of scientific quality in the most cost and time efficient manner.
> Types of Clients
Pharmaceuticals
Biomedical Devices
Biotech Companies
Meat Processing Plants
Contract Testing Labs
University Researchers
Individual Researchers
Government Agencies