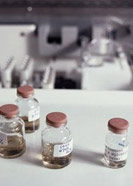 CH-P is an employee-owned company offering an excellent benefit package. Our high quality laboratory has a reputation for excellence and loyalty to its employees. We are currently experiencing an unprecedented demand for our services and find it necessary to increase our technical staff.
Histology Technicians
We are seeking individuals with a B.S. in biology as well as trainees committed to careers in the life sciences. Several of our employees are actively pursuing careers in medicine. Candidates have prospects for advancement based entirely on performance and commitment to excellence.
Accounting Aide
We are seeking individuals with experience in accounting/bookkeeping. Candidates should be proficient in Quickbooks, Access, Excel and Word.
> Send Resumes To
Colorado Histo-Prep
Careers
P.O. Box 272577
Fort Collins, CO 80527
Fax: (970) 493-8834
email